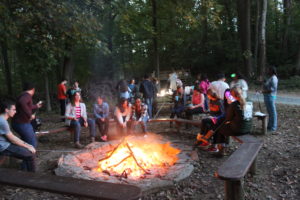 (above: Milburn Orchards Bonfire 2016)
Become a Part of AGcelerate! Join Here!
Let Us Know How We're Doing!
Take the AGcelerate Assessment Survey Here!
Spring Events Preview – More Info Coming Soon!

Dare to Make a Difference 

Thursday April 6th in location TBD
Panel discussion at 5, dinner with panelists at 6
Several campus organization representatives will discuss how their organizations get involved on campus and in the community
RSVP here!

Beach Grass Planting

Join us for a fun day of service Saturday March 18th
Bus leaves at 7am from the Trabant Loop
Breakfast and lunch will be provided
RSVP here!

Study Break in the Commons (Final week of classes)

Free Snacks and Beverages
DeStress with PAWS
Pizza will be served at 12:00 daily
---
What's Going On Around Campus?
---
Looking for Professional Development?
The Blue Hen Careers Website Offer a Range of Professional Development throughout the year. Check back later for upcoming events
---
For more information, contact one of our program leaders:
or Email Us at agcelerate@udel.edu